Deer at my patio window. 
I live in Hidden Valley Ranch in south Prescott. It is quite close to The Prescott National Forest, so we frequently have wild animals coming through our yard. It is common to see deer, javelina, and smaller animals such as squirrels, birds and rabbits here. I have heard that a neighbor only a few doors down had a mountain lion look in through the patio window.
This week I noticed my dog, Beau, also my real estate assistant, staring through the patio door rather intently. As I looked closer, this is the view he had.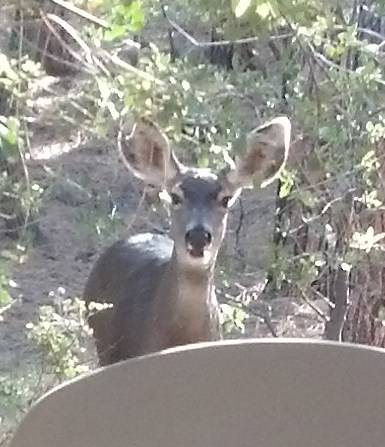 Beau and the deer were having a "stare down." The deer stayed there for a long time chowing down on a small tree that was there. It is easy to see how she would be a Mule Deer.
Beau knows the word deer. If I say the word "deer" or "did you see the "deer?" his radar and his ears go up and he whips his head around excitedly looking for the deer. When he gets the chance he tries to herd the deer. He is not effective at that as he cannot get in front of them.